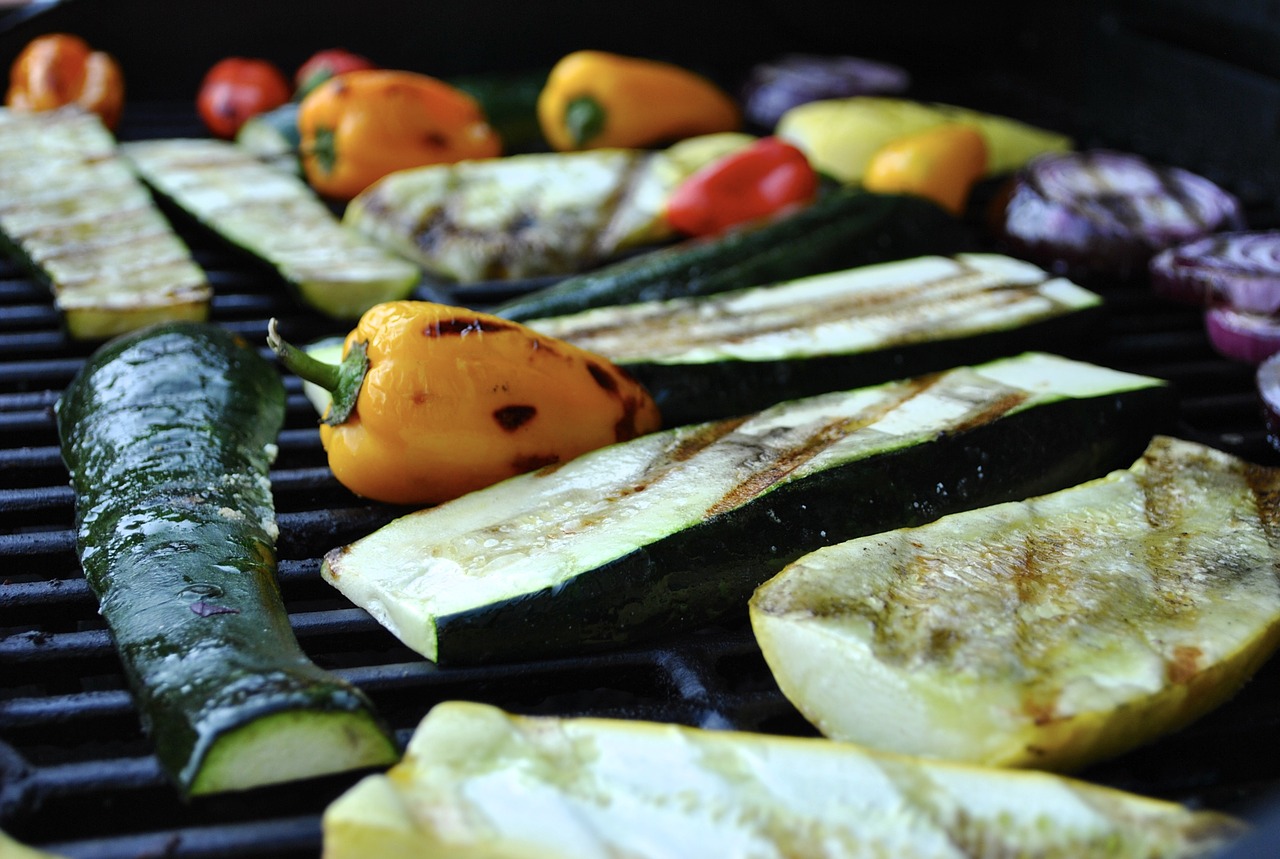 Nie tylko mięso można wrzucić na ruszt do grilla ogrodowego. Grillowanie warzyw to kluczowy element zdrowego grillowania! Grillowane warzywa cudownie smakują i pieką się o wiele szybciej niż mięso. Co więcej, nie musisz obawiać się, że będą w środku surowe tak jak w przypadku steku, kurczaka czy hamburgera. W większości przypadków można stwierdzić, czy warzywa są gotowe, tylko patrząc na nie. Oto kilka wskazówek dotyczących grillowania warzyw na grillu!
Jak grillować warzywa? - najważniejsze zasady
Aby warzywa były aromatyczne i miękkie, trzeba je dobrze przygotować i pilnować podczas grillowania, by się nie przypaliły. Oto wskazówki, jak to zrobić:
Pokrój większe warzywa (takie jak bakłażany, cukinie czy cebule) na mniejsze kawałki, np. plasterki. Im większa powierzchnia warzywa, która dotyka rusztu na grill, tym więcej pysznego smaku zyskają. Kawałki powinny być wystarczająco duże, tak aby nie spadały między kratki.

Włóż pokrojone warzywa do torby czy woreczka, dodaj oliwę z oliwek, sól i pieprz, aby je zamarynować.

Małe warzywa, takie jak pomidorki koktajlowe, najlepiej nadziać na szaszłyki.

Grilluj na średnim ogniu, aby nie spalić warzyw.

Uważnie obserwuj swoje warzywa. Czas grillowania warzyw może być różny, na ogół są one delikatniejsze niż mięso. Twardsze warzywa, takie jak ziemniaki, będą musiały na ogniu spędzić więcej czasu.
Grillowanie warzyw - odpowiednia temperatura
Jeśli używasz grilla ogrodowego, zmierz temperaturę, trzymając rękę ok. 10 cm nad grillem i licz, jak długo udaje Ci się utrzymać tak dłoń. Jeśli jest to 4-5 sekund, to znaczy, że temperatura jest odpowiednia. Można więc wykładać warzywa na ruszt i zaczynać grillowanie.
Jak korzystać z patyków do szaszłyków
Patyki do szaszłyków czy metalowe szpikulce są pomocne przy grillowaniu mniejszych warzyw. Zapobiegają one spadaniu warzyw z kratek i ułatwiają ich obracanie. Szpikulce ze stali nierdzewnej są najlepsze do grillowania, ponieważ są mocne, nadają się do wielokrotnego użytku i można je łatwo przełożyć. Zachowaj ostrożność podczas podawania jedzenia bezpośrednio ze szpikulców, ponieważ metal bardzo mocno się nagrzewa i łatwo jest się poparzyć.
Przygotowanie warzyw na grilla ogrodowego
Warzywa można przygotować na różne sposoby. Oto kilka porad jak to zrobić, by były smaczne a grillowanie na grillu ogrodowym było wygodne i przyjemne.
Bakłażan - pokrój go na ok. 2 cm plastry, a później posmaruj oliwą z oliwek lub octem balsamicznym, posól i grilluj przez około 5 minut z każdej strony.

Szparagi - odetnij twarde końce szparagów, wrzuć je do miski, wymieszaj w oliwie z oliwek z solą i grilluj przez 4- 5 minut. Rozłóż je w poprzek rusztów, aby zapobiec ich spadaniu.

Cebula - słodkie cebule są świetne do grillowania, podobnie jak czerwone cebule. Obierz je, pokrój w plastry o 2-3 cm grubości, obtocz w oliwie z oliwek i gruboziarnistej soli i grilluj przez 2 do 3 minut, a następnie obróć i ponownie grilluj przez 2-3 minuty. Warto wcześniej nadziać je na patyczek do szaszłyków.
Papryka - usuń nasiona ze środka papryk i pokrój je na części. Skrop je olejem i grilluj 5 minut z każdej strony.

Pomidory - pomidorki koktajlowe grilluj w całości przez 3-4 minuty. Obracaj je często, aby mogły równomiernie się zarumienić. Pomidory śliwkowe przekrój na pół, usuń nasiona i grilluj 4 minuty z każdej strony.
Ziemniaki - najlepiej jest je grillować w folii. Weź duży kawałek srebrnej folii i dokładnie owiń ziemniaki. Możesz je grillować w skórce! Grilluj ok. 20 minut, co jakiś czas sprawdzając, czy się nie przypalają.
Grillowanie warzyw na grillu ogrodowym to świetny sposób na wydobycie ich niesamowitego smaku i karmelizowanych nut, które pojawiają się dopiero w procesie pieczenia ich nad ogniem. Jest to też dobra odmiana dla tradycyjnego grilla z kiełbaskami.